Saas Management
Expand Saas Management Section to view the sub menus package list, account info, billing, add-ons, and domain.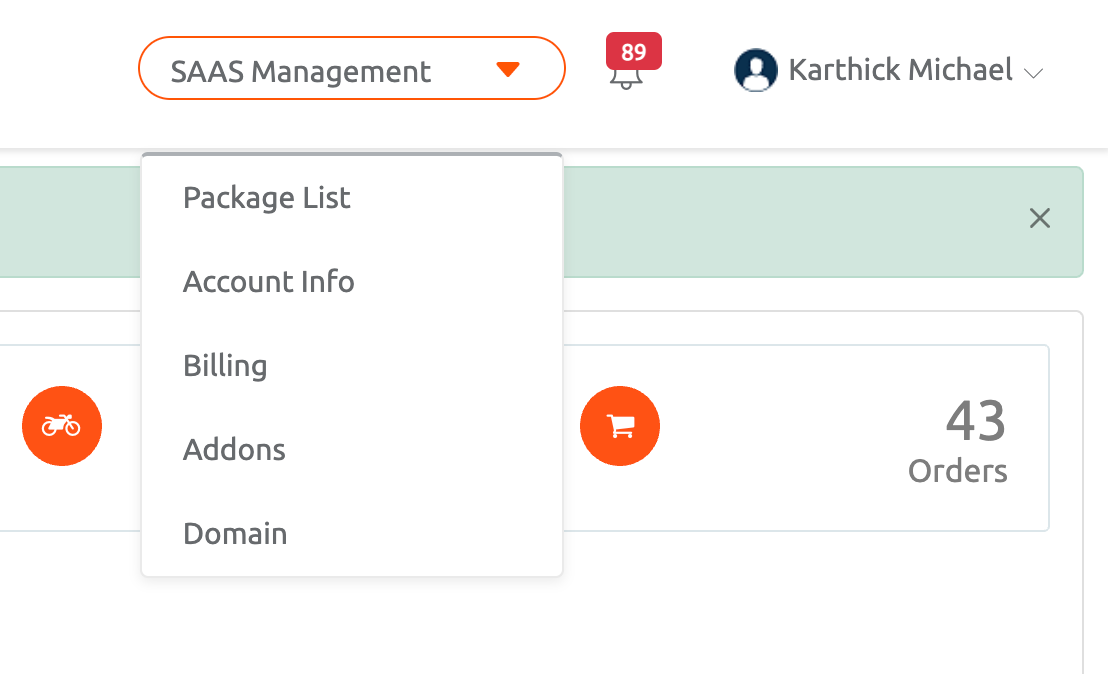 Package List
The package list contains the different available packages in the Ytock, and the user can choose the package depending on the restaurant business preferences.
Click the Get started button.

The Get started button redirects to the new payment confirmation page.

Package selection -You can select the package of Ytock either monthly or yearly by choosing the radio button.

Payment method - This section collects the card details of the user. Type the card name, card number, expiration date, CVV, and the billing address in the corresponding field and click the update payment method button.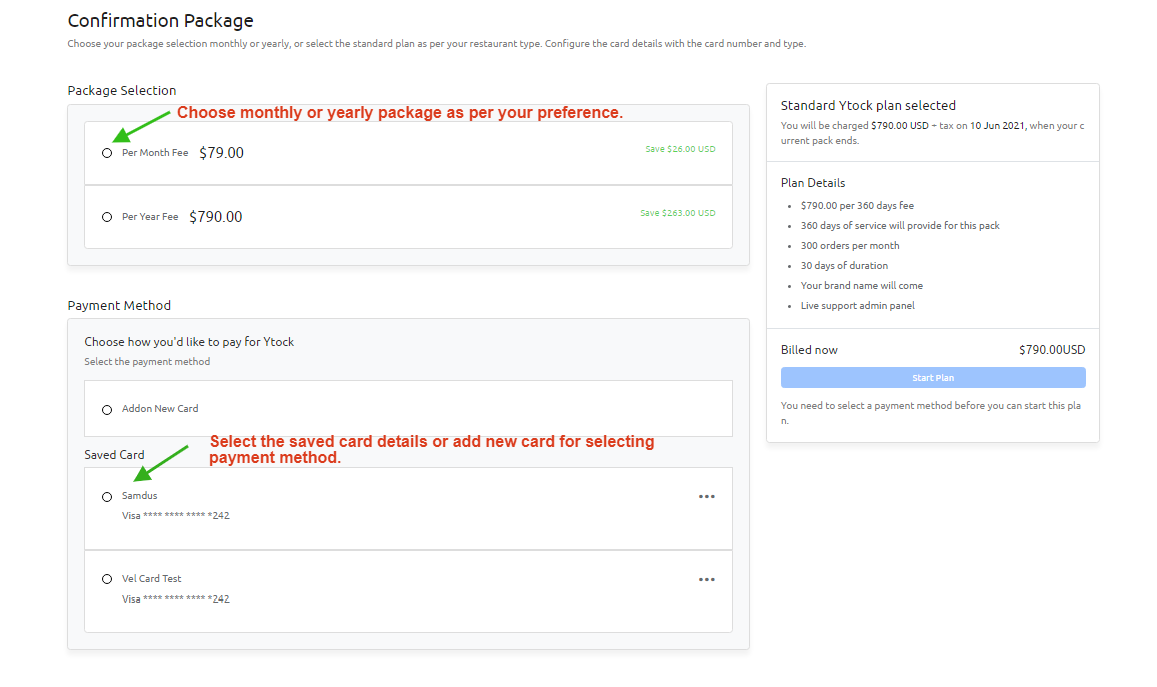 Account Info
Under Saas management, click to expand and select Account info to display the account details.

Account information gives the current plan details, registration date, status - active/inactive, and last login time.

Add items, categories, and choices allows you to include new elements to your restaurant list.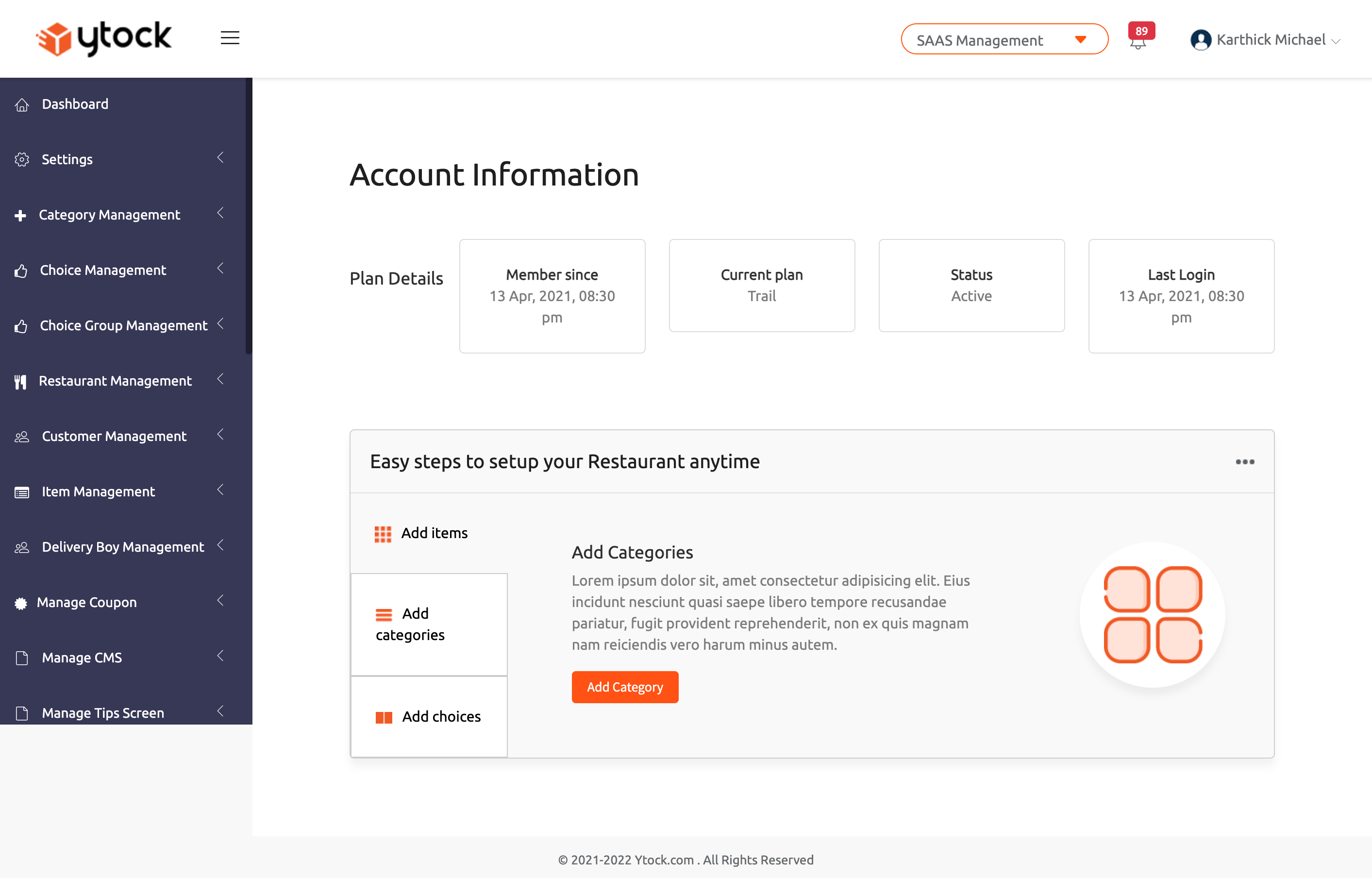 Billing
Under Saas Management, click the billing sub-menu to expand the billing page.
Outstanding Payment - It refers to the unpaid balance amount containing invoice date, invoice id, type, due date, status, and amount to be paid.

Order and Invoice History - It lists out payment date, invoice ID, payment method, transaction amount, and payment instrument.

Search Box - You can search the invoice by specifying the invoice ID and click the search button to display the details of the invoice.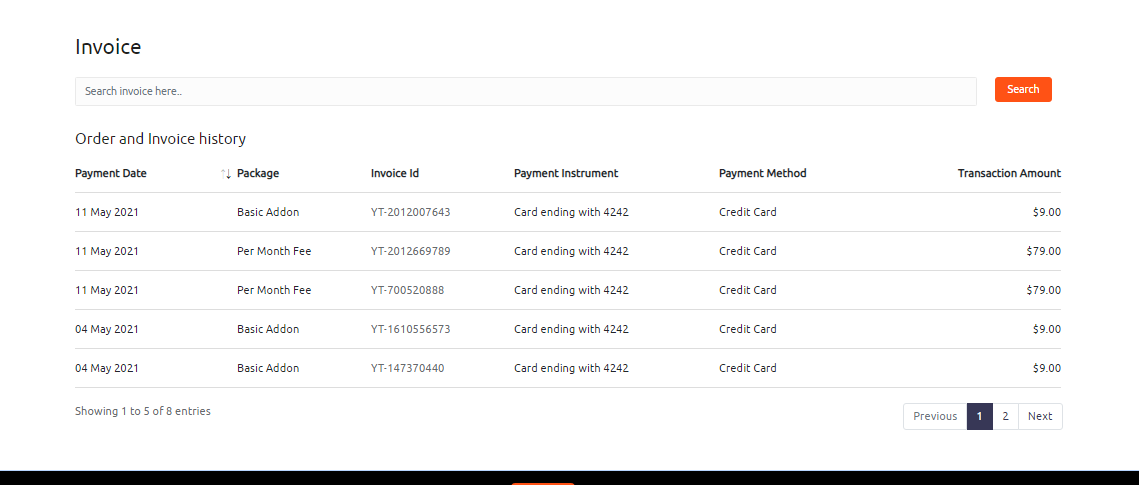 Add-ons
Add-on selection displays your current plan and if you want additional orders 60, then get your purchase your add-on for 20 dollars. You can also purchase a yearly subscription for 790 dollars.

If you have already saved a card or want to add a new card to your YtOCK, you can choose any one radio button.

Change the billing address by clicking the edit billing address pops up a dialog box. Enter the card name, card details, contact address, city, postal code, and state, then click update payment method to update the changes.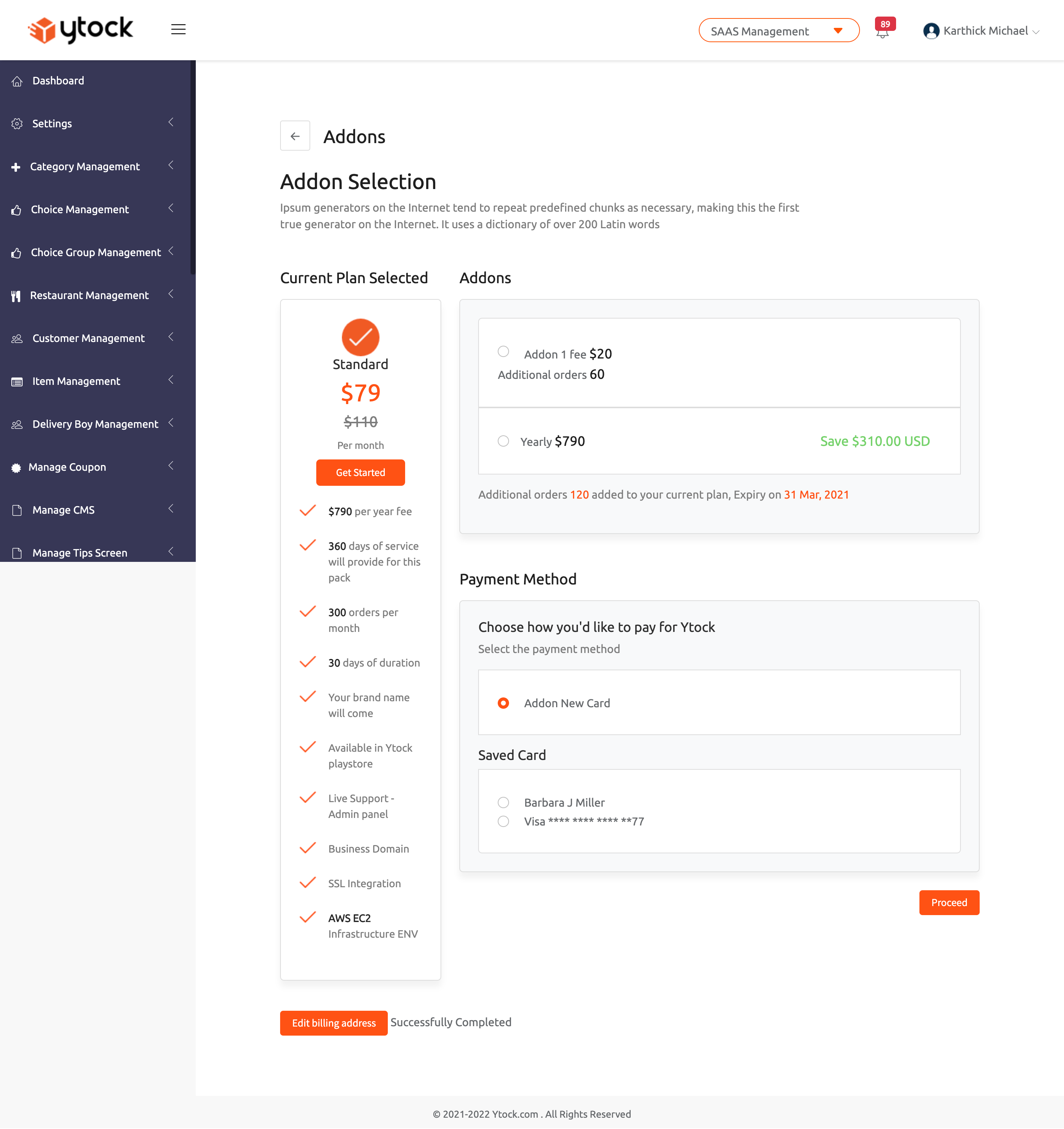 Domain
Under Saas management-click the domain sub-menu located at the top right corner.

Primary Domain - It gives the domain name, the status of the domain name connected or not, the date on which domain added to the platform, and the provider details.

The domain section lists the third-party domain, domain status, and third-party domain date added to the Ytock platform. You can remove third-party URL links by clicking the remove button.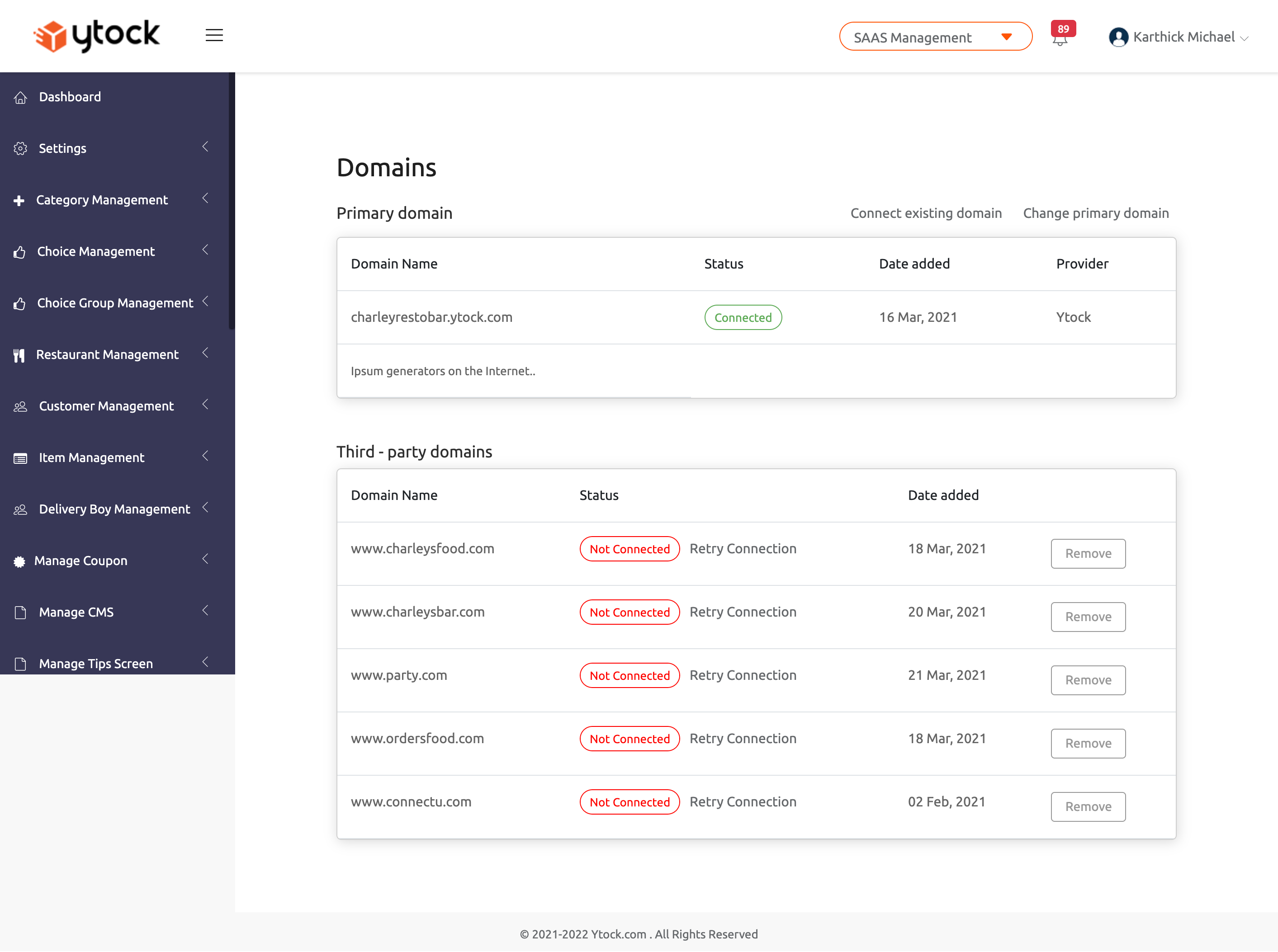 Notifications
At the top right corner, the notification bell gives the information about newly registered customers, newly registered delivery person, new menus added, number of orders, number of orders accepted by the delivery boy, and number of orders rejected by delivery boy.